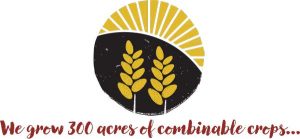 We are a commercial farm, growing 300 acres of combinable crops.
We grow wheat, barley and oats, which are used to make our chicken feed.
20 acres of permanent grass is used for keeping sheep over winter and we make 3000 small bale hay and haylage in the summer.
We also bale 6000 small bales of straw, which we sell locally.
We rotate the crops around the fields to reduce our weed and pest burden, and we also contract some of the fields out for growing cabbage and potatoes.
Alongside our more intensive farming, we have areas of conservation. Each field has a wildlife margin by the hedge, and we also put cover crops in fields which are not in production. We dug a pond in the late 1980's at the bottom of the valley, we've planting small copses of trees in field corners, and just recently we planted a double row of trees over 100 meters long to create a new wildlife corridor on the farm. Hopefully we have enhanced the wildlife habitat and diversity over the years.
We trim the field hedges every other year, leaving some growth by the hedge, which helps to thicken the hedge and create cover for wildlife and birds.