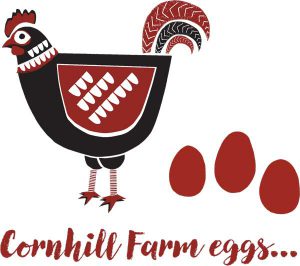 Our Bovan Brown girls lay over 10,000 eggs each day,  – you can be assured that they are kept to the highest welfare standards in the industry. We have regular audits from Laid In Britain, Freedom Food (a branch of the RSPCA) and the BEIC (British Egg Industry Council).
The hens live in an insulated mobile hen house.  From here they eat, drink, sleep, lay eggs, and roam over 10 acres of herb rich grasses with natural shrubs and cover.
Our hens are Free Range, not organic or cage. Free Range means the hens have access to grass fields to range, roam, scratch, dust bath etc.  Our choice of farming at Cornhill Farm ensures there is no restriction to access the entire range, and by growing extra game cover crops and flower species on the herb rich pasture on the range, it encourages the bees and insects too, whilst ensuring the girls feel safe from predators out on the range.
Ultimately, they behave like every chicken should, and the big benefit you'll notice is the taste of the eggs and the deep colour of the yolk – that comes from happy hens, eating worms and grubs from the fields.
We make our own feed for the hens; they eat 13 tonnes a week! We firmly believe growing crops on our balanced and healthy soils, makes the best quality corn which we feed straight back to the hens, giving you the tastiest eggs around – so tasty in fact that that our Large eggs were awarded Gold in the Taste of the West Awards 2021!
If you would like any more information on our eggs, or would like to enquire about wholesale or stocking our boxed eggs, please ring Len on 07974 007 662 or [email protected]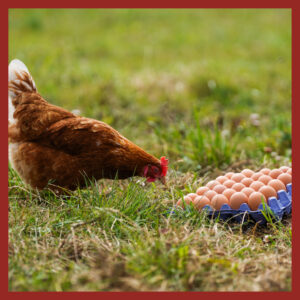 Our egg stall – it doesn't get more local than this, on the end of our farm lane. Food yards, not food miles! Trays of 30 in mixed sizes, trays of 20 VL, boxes of 6M, 6L and 6 VL / double yolkers.

Bosavern Community Farm
Chypraze Farm Shop
 Leedstown Farm Shop
Meadowside Nursery, Carnon Downs
Richards of Cornwall, Hayle
St Buryan Farm Shop
Splattenridden Farm Shop, Lelant
Tregullus Farm Shop, Lizard
Trevaskis Farm, Connor Downs
Trevelyan Farm Shop, Germoe
Trink Dairy, Trencrom
The Veg Shed, Reawla

Aunty Mays, Newlyn
Baker Tom Penzance, Pool, Falmouth, Wadebridge
Beacon Stores
Carnon Downs Garden Centre
Chacewater Bakery
Dales Family Butchers, Helston
Dover Service Station, Connor Downs
Goldsithney Stores
The Grow Box, Redruth
Heamoor Costcutter
Kehelland Trust
Mole Valley, Ludgvan
Newlyn Cheese Shop
Pooleys Meat Pantry
Sandy Stores, Praa Sands
Sportsmans Arms, Four Lanes
St Buryan Londis
T.C James Campsite, Gwithian (summer only)
Vivian Olds Butchers, St Just
And not to mention the cooks, kitchens, cafe's, the bakeries and many outlets big and small that all love our eggs!