Welcome to Cornhill Farm
The Olds family have been farming at Cornhill since 1912 when Harry Olds moved from Lelant. Since then we have gradually expanded the farm and currently farm 350ac.
We have 14,000 hens in our free range enterprise, we farm 300ac of land for growing crops to feed the chickens, and we run a contracting business that complements the work we do on the land.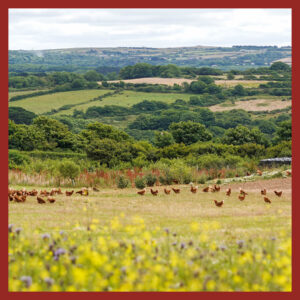 Our chickens, which are spread across four sheds, are blacktailed hens, a hardy breed that is well-suited to our exposed farm that overs Godrevy Bay and the moors towards Zennor and St Ives.
Our hens roost in insulated mobile hen houses, which are regularly moved around the farm so they have fresh grass. During the day, they are free to roam over the herb-rich grasses and forage for bugs.
One of the reasons our eggs are so popular is that they are really fresh: 95 percent leave the farm within 48 hours of being laid. That makes a real difference when you crack the egg into a pan. Once people try one of our eggs, they can really see and taste the difference.